Tiny Home or Park Model? What's the Difference?

This can be confusing to home buyers because there is a significant difference in the design and price of each structure. At first glance they may look similar, but that is pretty much the only similarity these homes have in common.
What is a Tiny Home?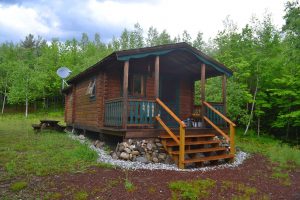 A Tiny Home is a real home with square footage is between 200 to 999 square feet of livable indoor space. These homes are placed on a permanent foundation and can be a primary residence on land that is owned by the homeowner.
A Tiny Home is a real house and it will need building permits, a foundation, and utility connections just the same as if you building a larger home. It will have to pass inspections and you will need a certificate of occupancy in order to have it used as a permanent residence.
This home can be designed to your own specifications and custom-built to meet your needs. At Future Homes, we have several types of Tiny Cottages, and just like our other home plans, we can custom-design your own unique home to fit your specific needs.
What is a Park Model?
Park Model homes provide temporary accommodations for recreation, camping or seasonal use. Park Model RVs are designed to look like a home but are considered for recreation only. Many RV parks have special sections you can place a Park Model and leave it year-round.
You can purchase a Park Model from a mobile home dealer or RV sales office. Usually you do not have the option to change any of the design features of the Park Model and you are purchasing it like a car and offered different upgrade features but you pretty much are getting a specific pre-built design.
To learn more about Future Homes and our many custom-built home plans visit our Website or our Facebook page to see why it's A Better Way to Build!