Custom Built Modular Homes – The Wave of the Future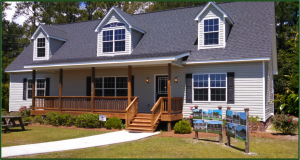 What is a modular home exactly? A lot of people think it's a fancy name for a mobile home – but that is just not true.
Modular homes are and alternative, and some say a better one, to your typical "stick built" homes. There are many advantages to choosing a modular home for your new home – one is that they are built in a climate controlled factory and, because of that, you reduce the chances of weather related delays or problems.
Another advantage to choosing a modular home is that there are hundreds of design possibilities and if you are not sure what type of home you want to build you have a great launching pad with the wide range of house plans of which to choose. And, the choices don't stop there, you are able to choose the style of windows, doors, flooring, counter tops, fixtures – you name it! Just because the majority of the home is pre-made does not mean your choices are limited. Far from it!
One of the more significant advantages of choosing modular is the reduced building time. Building your beautiful new home can be built in one-third the time needed to build a standard site-built home. One of the residual benefits to this is the reduced interest and construction financing. Also, the reduced need for "no show" subcontractors also decreases the building time.
Now the most exciting advantage is price. Yes, it all comes down to time and money, doesn't it? The shorter building time will save you money on the overall construction. However, don't think that the lower cost means lower quality. Because these homes are factory-built, manufacturers are able use tools and materials that on-site builders may not have access to use at the job sites. And of course, all the modular homes are built to the same codes, standards and regulations used by conventional site-builders.
So now that you are armed with a little more information about the advantages of modular homes, be sure to visit our website and see the many plans available. Just think, in a matter of months you could be sitting on the front porch of your new home!